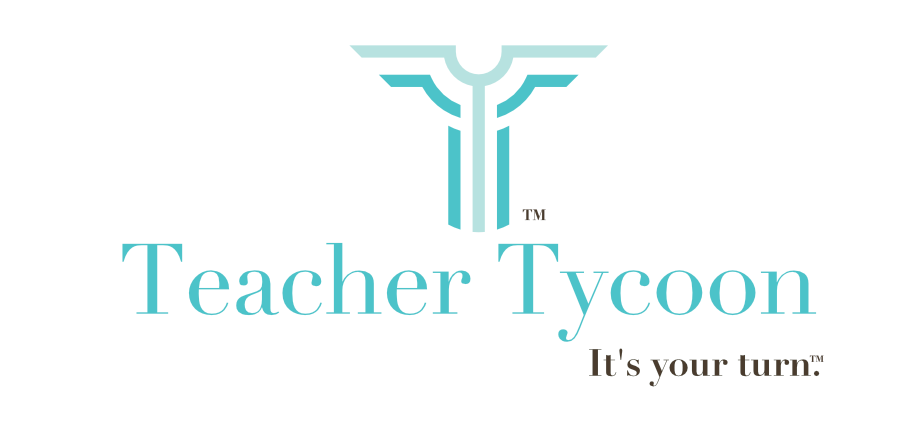 Teacher Tycoon is Designed with Teachers in Mind...If You're A Teacher or Know a Teacher Then You'll Agree That...
Teachers from all different paths have the exact same conversations with 3 topics in common:
The BIG Topic--The Money Thing
Teachers Don't Make Enough Money to Afford the Lifestyle They Deserve. They actually use the salary they need for their own lives to support their students and their classrooms.
The BIG Question--Do I Stay or Do I Go?
A lot of teachers stay much longer than they want to because the money thing is not resolved. As a matter of fact, more than 44% of new teachers leave the teaching profession within 5 years (Google).
The "Big 3" That Teachers Try to Avoid
Every teacher entered education because of their passion to teach and shape minds. It's the big 3 elephants that teachers try to avoid--Bureaucracy, Backlash, and Burn Out. There is one other "B" and that's the beauty of teaching that overcomes anything.

What are your thoughts? Let's talk it over at the Teacher Tycoon™ Forum January 3rd, 2022 @7:00-8:30 p.m.

Teachers Just Don't Have a Built In Salary to Build Legacy Wealth

Do you know that your value as a teacher amounts to a 7+ figure salary, but that day may never, ever come and that's so frustrating! Can You Relate??
Teacher Tycoon™ Helps Teachers Launch Their Wealth Builder
The Teacher Tycoon™ helps teachers builds legacy wealth. As a matter of fact our founder, Angela designed the full proof steps she needed to fill the same gaps most teachers face (you'll hear more about Angela's story later).
The good news is You Too can go after the wealth you need for your life cause it JUST GOT EASY with Teacher Tycoon™ and you can build legacy wealth whether you choose to leave teaching or plan to stay (more on that in a bit).
There's just one thing you need to consider first…..
IS TEACHER TYCOON™ FOR ME?
Hey Teacher Friends! Are You Gonna Leave Teaching or Stay?
You Need a Full Proof Plan for Your Wealth Builder So You Can Afford Your Life Whether You Choose to Continue Teaching or Not!
We Created the Teacher Tycoon™ Forum to Talk it Over So You Can Decide: Leave Teaching OR Stay…Decide in One Day
We Got You, Sis, Our Motto is # It's Your Turn.
Your First Step is Join the Teacher Tycoon™ Forum
January 3rd, 2022, 7:00-8:30 p.m.
"Designed and built with every woman in mind who's ever had a big dream of having an amazing life + business."

We're contributing positive vibes for women at events and in the media!



Look at the BIG WINS of Women in Our Community...

"MOUNTAIN MOVIN' MOTIVATOR" herself, ANGELA TEZENO! Angela Tezeno delivers an electrifying message of hope, power, and inspiration which provokes women to search deep within the soul to rediscover true purpose, destiny and value."
-Mary R.

"Angela's workshop was practical, interesting, and effective. I am already using the 3 steps to improve my marriage and career."
-Sue G.

"My decision-making is more focused, which is helping me to accomplish the important tasks and objectives in my life. I've been able to clearly define the goals that are most relevant. I feel like I am getting things done, a very satisfying feeling."
Kim W.

Achieve

a Healthy Life Balance with the PB&J Podcast



"Nothing Like a Little PB&J to Ease Your Very Busy Life"
Get tips, tools, & advice to learn how to level up your Teacher Tycoon™ Life